A Guide To Making Nut 'Milk' At Home
Whether you're dairy-free, vegan or just fancy trying something new, nut 'milk' is a healthy and easy alternative to cow's milk. Nut 'milks' can offer just as much calcium and vitamin D as traditional cow's milk whilst also providing essential fibre and being lower in calories. Homemade nut 'milk' is 100% natural, free from additives and preservatives and has a higher nut content than store bought alternatives. Making nut 'milk' at home may seem daunting but with our Nut Drink Making Set you can easily experiment with different nut bases and flavours to create delicious and healthy nut drinks.
Instructions:
Fill the jar up to the 125ml line indicator with nuts then add water up to the 500ml line.
Leave covered to soak. Different nuts need different

soaking

times, see below our guide to nut soaking times.
Once soaked, dispose the water and replace with fresh water up to the 500ml line.
Place the silicone splash guard on and secure with the screw band.
Insert the hand blender and mix for 2-3 minutes at minimum speed. This set is suitable to be used with any standard domestic hand blender with a diameter of up to 6cm/2.4".
Remove the splash guard.
Stir the mixture thoroughly with a spoon.
Let it stand for 15 minutes.
Place the silicone pouring lip, filter press plunger on the jar and secure with the screw band.
Press the plunger down very slowly to separate the nuts from the liquid.
Pour the drink straight from the jar and enjoy!
The nut drink can be stored in the fridge and consumed for up to three days.
Top Tip: Utilise the nut pulp, packed full of protein and fibre, to make bread, butter, biscuits and even cakes.
---
Nut Soaking Times:
Soy: 10-12 hours
Almonds: 8 to 12 hours
Hazelnuts: 8 hours
Macadamias: 8 hours
Peanuts: 8 hours
Pine nuts: 8 hours
Pecans: 4 to 6 hours
Walnuts: 4 hours
Cashews: 2 hours
Rice: 2 hours

Oats, coconut, pistachios, hemp and brazil nuts: no soaking needed
---
Care & Use
Always clean all components before first use. Wash thoroughly and rinse in clean, warm soapy water.

Jar, silicone components and filter press plunger are dishwasher safe.

Metal lid can be washed in warm, soapy water. Dry thoroughly. Do not allow to air dry.

Do not pour boiling water directly into jars.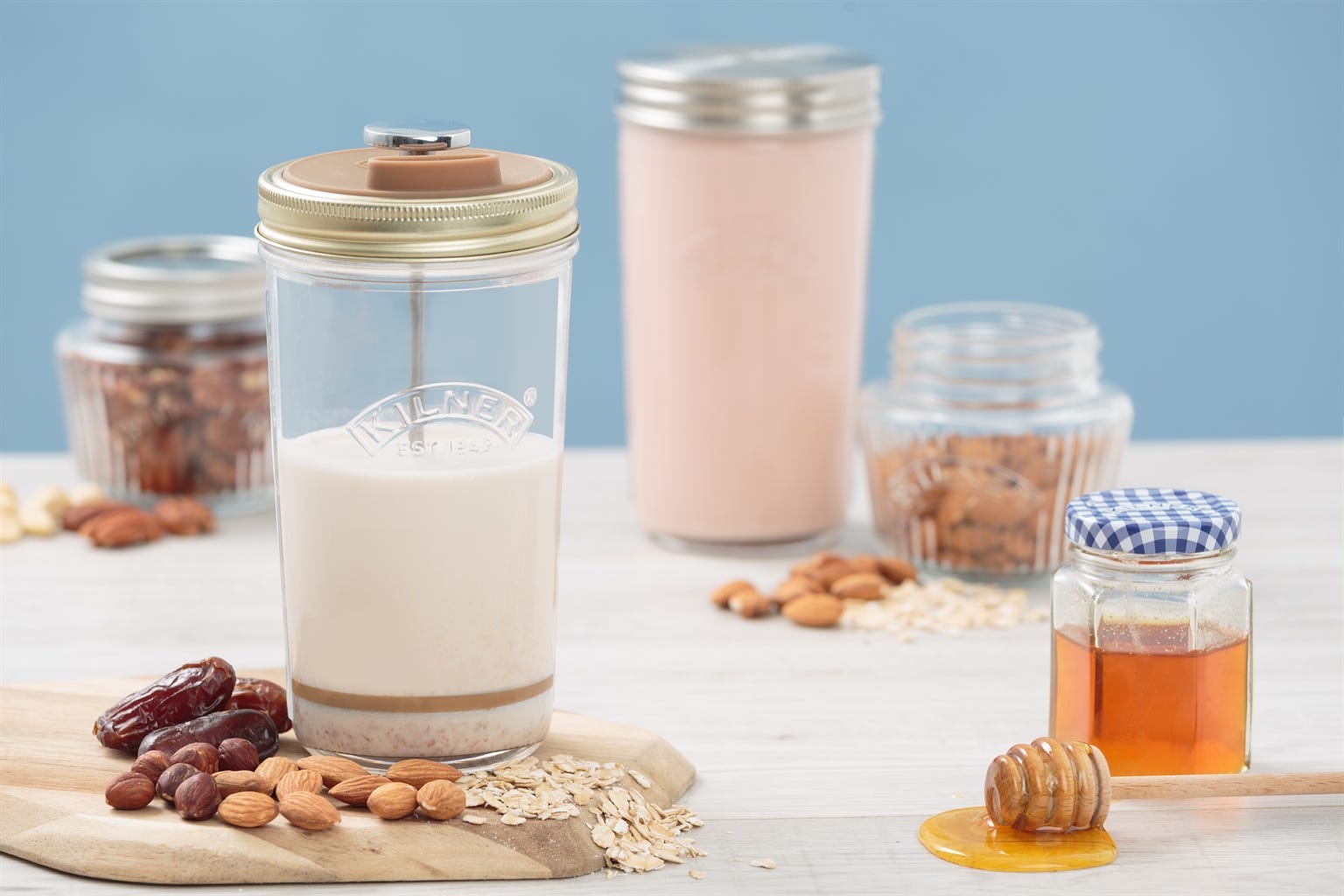 Start making your own nut milk at home