Kilner® Christmas Activities Gift Jar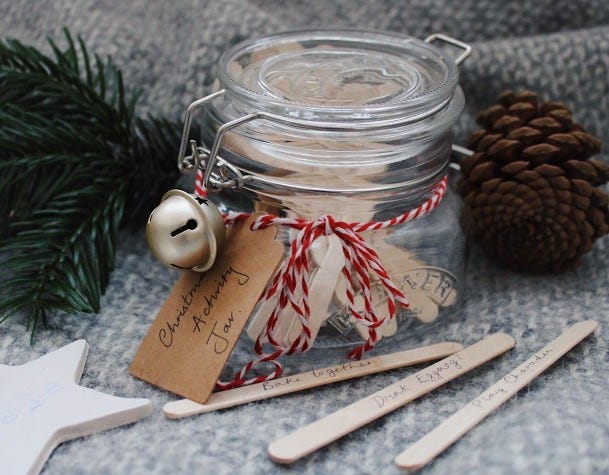 A Kilner® Jar filled with magical ideas to do this December makes for the perfect gift for all those Christmas lovers out there!
You will need:
Wooden lollipop sticks
A pen
Festive decorations
Step 1
Begin by writing a list of all the festive things you like to do this time of year.

Step 2
Once you are happy with your list, you can start to hand write them onto your lollipop sticks.
Activity Inspiration!
Make a Christmas playlist
Chop down your own Christmas tree
Sip a hot chocolate
Do a random act of kindness
Watch a Christmas film
Start a new tradition
Read a Christmas story
Donate a toy
Create homemade Christmas cards
Drink eggnog
Bake together
Make a wreath for your front door
Write a letter to Santa
Hide 'Elf on the Shelf'
Play Charades
Wrap presents
Go ice-skating
Make paper snowflakes

Step 3
To finish, decorate your Kilner® Jar with a tag and festive accessories.

Tutorial and image courtesy of The Poncy Pantry.
Instagram: @theponcypantry.
Shop the Essentials