Eating outdoors when the sun is shining is a great way to enjoy the summer months. Whether it's breakfast on the go or a picnic with friends and family, eating deliciously prepared food outside is a guaranteed mood booster. We've got lots of great summer recipes for you to try out along with the perfect storage containers for your prepared meals.
Start your day off right
Enjoy your breakfast anywhere with our Breakfast Jar Set. Not a fan of eating breakfast as soon as you wake up? The Kilner® 0.35 Litre Breakfast Jar Set is perfect for storing cereal, yoghurt or overnight oats to enjoy whenever you please. Our set includes a Viners® steel spoon with a handy silicone spoon holder so if you're eating outside, you won't misplace your cutlery.
Need some breakfast inspiration?
Enjoy Eating Outdoors
Keep your prepared meals fresh with our Kilner® Fresh Storage range. Our containers are made from glass that can be used throughout the cooking process.
Glass is the perfect material for storing food. It does not stain, absorb odours or harbour flavours and is easy to clean. Perfect for batch cooking and reducing food waste!
When you use Kilner® storage, especially for outdoor eating, you'll be helping to keep our outdoors clean. Not only are you refraining from using single use plastic, but you can store any waste in our storage to take home with you.
Ideas For Eating On The Go
All In 1 Food To Go Set
£19.00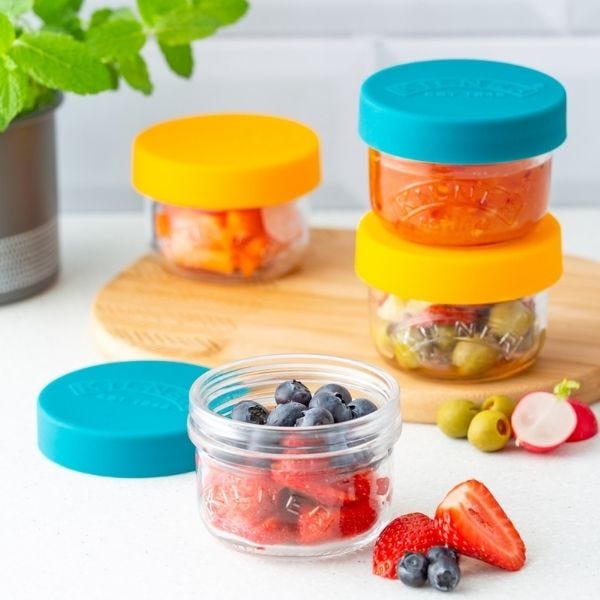 Set of 2 Snack & Store Pots
£9.00
---
Check out our healthy eating guides!
You can find a selection of our favourite tried and tested healthy recipes in our Healthy Eating and Healthy Kitchen Guides.